HIGH TEA
Originated in Britain in the early 18th century. Initially, this was blue-collar workers' afternoon coffee. Whether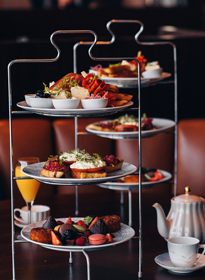 standing or sitting on high chairs. Through time, it has evolved and is now served on the High Tea platform to create conversation over bread and sweet bites.
VOX High Tea
High tea usually consists of a collection of small sandwiches, strawberries and other fresh fruits, and beautiful little cakes, all presented on three-tiered trays. Tea or coffee is offered, and more often begins with the serving of champagne.
High Tea is served at VOX all days from 2 pm - 4:30 pm
VOX High Tea
ISK 4,500.- for one person, minimum two persons.
High Tea at VOX, Hilton Reykjavik Nordica is a combination of these courses.
Duck rillette on fried brioche bread with pickled onions
~
Smoked cod on sourdough bread, herb mayonnaise and pickled tomatoes
~
Icelandic cheeses, Parma ham, toasted sourdough bread and spiced honey
~
English Scone, mixed berry jam and whipped cream cheese
~
Macaroons, pistachio cake, brownie Sarah Bernhard and fresh berries
To reserve a table: Tel: 444-5050 or vox(at)vox.is
All prices are in ISK and include service charge and VAT.
Please inform your server of any allergies or intolerances before placing your order.