Christmas at VOX and Hilton 2023
Welcome to VOX Brasserie on the advent. Whether the occasion is a cozy brunch with the family, a festive time with work colleagues, or a relaxing Christmas lunch date, VOX is your go-to for all occasions, big or small.
Sharing Christmas Menu | Christmas Brunch | Christmas Lunch Buffet | Christmas Party at Home

Holiday Menus
December 24th | December 25th & 31st
---
VOX Sharing Christmas Menu
We present a delightful sharing menu at VOX Brasserie, available every day from the 23rd of November until the 23rd of December.


STARTERS

Nordic charcuterie
Selection of cured meats, salmon, cheeses, pickles and rye bread

Creamy seafood soup
With sherry and saffran pureé


MAIN COURSE

Venison steak
Parsnip purée, Brussels sprouts, and juniper berry sauce

Salmon en croute
with dill sauce

Nut loaf
on grilled Christmas salad with chimichurri


DESSERTS
Classic tiramisu with a Nordic Christmas twist

Gingerbread panna cotta with festive spices and Christmas berry sauce

Risalamande with cherry sauce
Price: 13.900 ISK PER PERSON

Christmas Brunch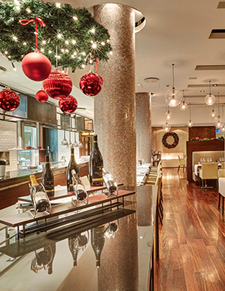 The Christmas brunch at Hilton has firmly established itself as an integral part of the holiday preparations for many, including families, workplaces, and friend groups. The Christmas brunch starts on November 18th and is available every weekend until December 31st.
Price:
Adults: 7,900 ISK
Children from 5 - 11 y/o: 5,900 ISK
Free for children under the age of 4 accompanying adults.
We recommend booking a table in good time due to high popularity.
---
Christmas Lunch Buffet

From the 20th of November, we will be adding a "Christmas twist" to our very popular lunch buffet at VOX. Secure your spot now for a warm and festive Christmas dining experience which is available all weekdays until December 29th.
Price:
Adults: 6,900 ISK
Children from 5 - 11 y/o: 4,900 ISK
Free for children under the age of 4 accompanying adults.
---
Christmas Party at Home
VOX Home´s design is warm and cozy, with light-coloured wood panelling, wallpaper, prominent chandeliers and beautiful, eye-catching ornaments. Design also plays a part in the food preparation, where classic Danish china is often used. Guests will experience a fun and intimate atmosphere in an environment that recalls luxurious abodes of times past. The pleasant surroundings make for relaxed meetings where participants can feel like they are visiting a country manor far from the bustle of the city.
The area consists of three dining rooms, each of which is suitable for private events or smaller groups. The food is served in a way, that everything is put on trays on the middle of the table and guests serve themselves.
Firstly, classic starters are served. When guests have finished the starters, the table is cleared and the main courses are served.
Hot and cold courses, and as always we follow tradition and serve popular Christmas courses. At last we serve desserts and coffee, and our guests can choose whether to use the lounge area or their own private room.
Price: 18.900, - per person.
Included in the price: The dinner mentioned above, waiter service, and the rent of the room/s.
The minimum amount of guests is 12 people, and the maximum is 50 people.
For bookings and further information, please contact meetings@icehotels.is